Covid Lasike Andolana
Dhwani Foundation has taken up the Covid Lasike Andolana (CoLA) – Covid-19 Vaccination Drive programme in five districts of Karnataka — Bidar, Koppal, Vijayapura, Mysuru and Shivamogga.  This was our initiative in supporting the Karnataka government through the Department of Rural Development and Panchayat Raj (RDPR) as almost 4.9 crore people had to be reached in a short time.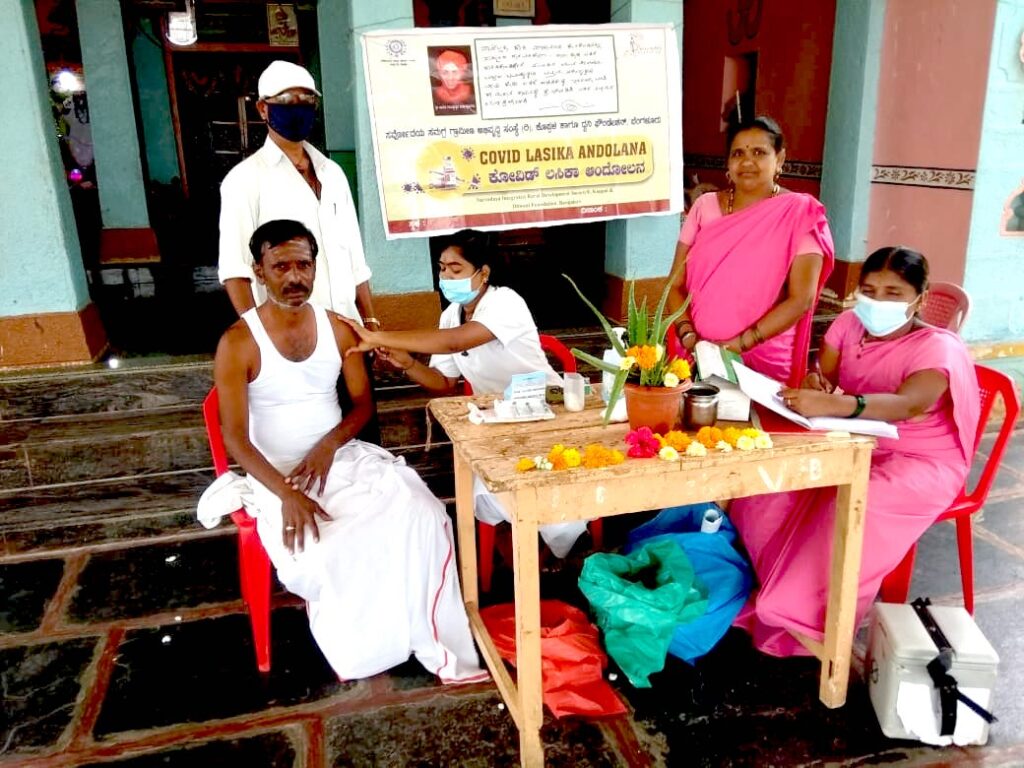 This programme is implemented in partnership with the following Lead NGOs – Institute for Rural Development (IRD), Vijayapura, Green Dot Trust, Mysuru, Sarvodaya Integrated Rural Development Society (IRDS), Koppal, Chaitanya Rural Development Society (CRDS), Shivamogga and PRAWARDA, Bidar. We are also supporting United Way, Bengaluru who are anchoring a related campaign in Bagalkot and Belgaum.
This project brings all stakeholders together, to ensure all eligible people are vaccinated against COVID-19. The key activities are to raise awareness on vaccination, mobilise communities particularly vulnerable groups, and track the progress of the drive, in coordination with the community, government officials, and volunteers. It also involves training the community workers, Gram Panchayat Task Force (set up last year for COVID management), ASHA workers and volunteers.
In parallel, we helped create and document the process and systems for the mass vaccine campaign, registration, and vaccine camp management at the state level, as a part of the Karnataka State level COVID‐19 vaccination campaign. We also developed SoPs, training modules, IEC materials, and content that are used across the state in all Gram Panchayats and District levels.