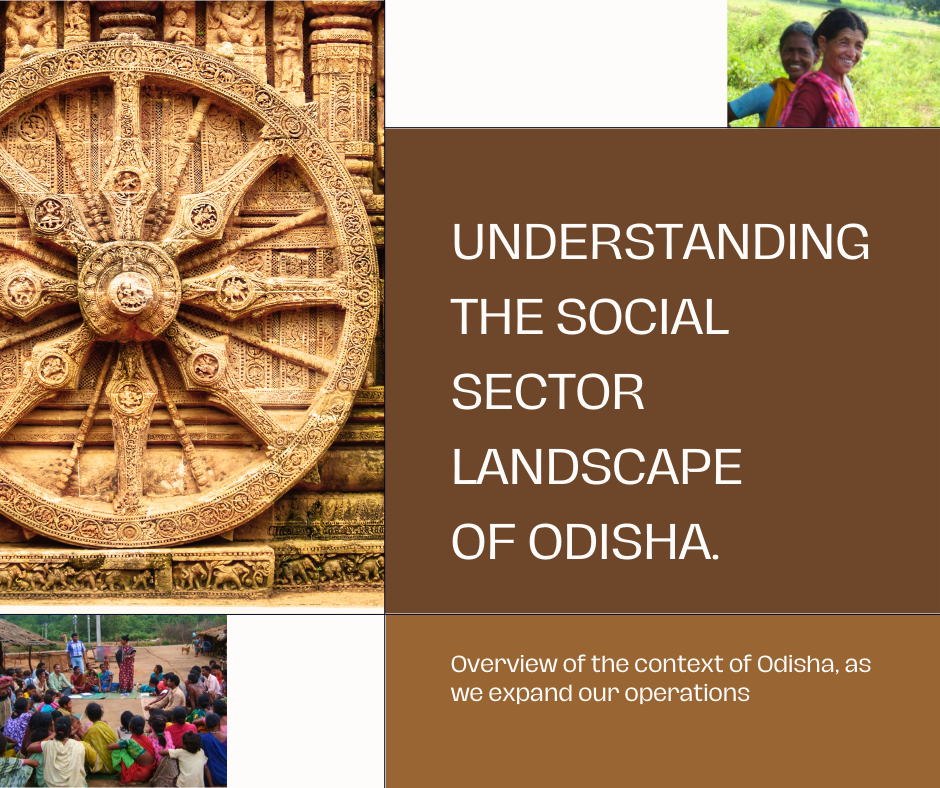 Understanding Odisha's social sector landscape
An Overview of the context of Odisha, as we expand our operations
Striving towards our vision to create a credible social sector, Dhwani's efforts to scale and inquisitiveness to understand the social sector in Odisha took a shape of a detailed research. The aim was to identify the major concerning issues in the state and understand the grassroots needs. Moreover, the aim was to deeply understand the various developmental domains that various grassroot NGOs of Odisha intervene in see how Dhwani can be relevant in their context.
Indian diaspora has a number of developmental issues waiting for a solution. Some of the issues have devised solutions but implementational challenges persist. Inefficiency and uncontrollable instances weaken the weak. One of the biggest issue Indian states deal with, is poor women and child health and poverty. Although variable, but the rates of declining health, unemployment, and poverty has been a majorly thriving and concerning issue in the country. As far as the southeastern state, Odisha is concerned, the dwelling social issues include massive malnutrition and migration fuelled by food insecurity, poverty, and natural disasters. Being a coastal state, natural disasters inevitably influence lifestyle changes every year, leading to, thousands of migrants seeking a survivable lifestyle. This in turn converts to poor health not only of children but also adults.
Malnutrition: a sustained issue in remote Odisha
According to the NHFS-5 reports, stunting in Odisha stands at 31%- a significant improvement from 38% in NHFS-4. The rate of underweight children still stands at 29.9%. The most concerning area of malnutrition highlights the districts Cuttack, Khordha, Kendrapada, Nayagarh, Jharsuguda, Mayurbhanj, Malkangiri, Nabarangpur, Bhadrak, and Bargarh. Among them, the most affected population are the tribal communities, who have been anyway deprived of basic necessities for most of their lives.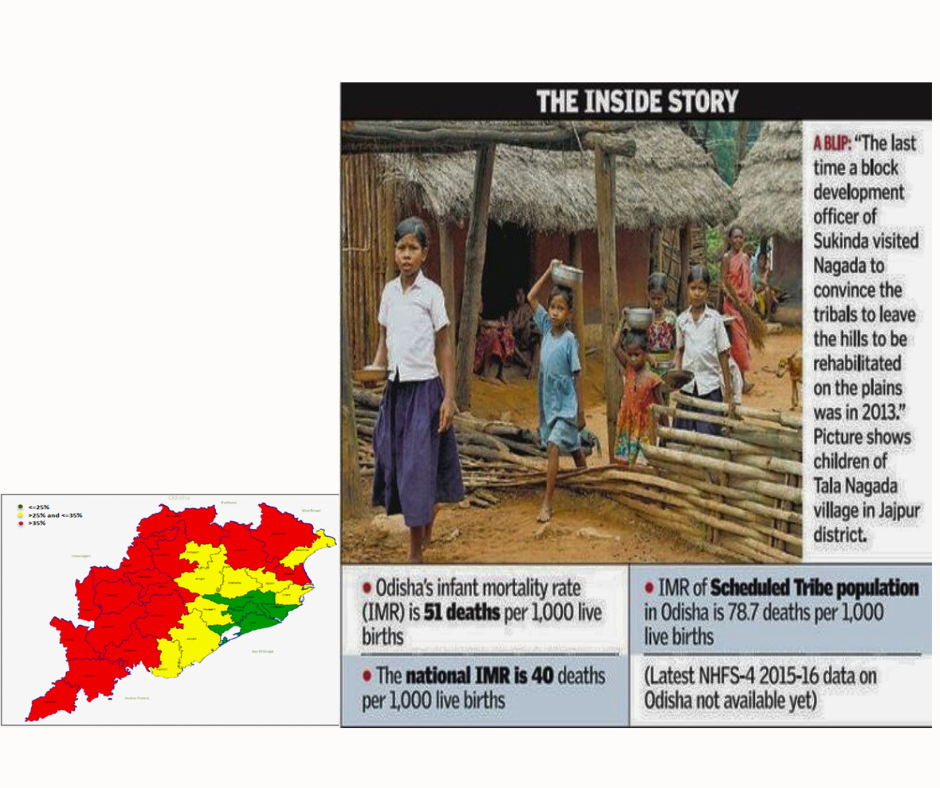 Given the economic indicators and geographical dynamics, malnutrition in these districts can be traced to food insecurity and calamity-based challenges. These aspects consequently weaken population health in the entire state and thus, always remains in an ongoing recovery stage. Most children born in tribal and remote communities in Odisha tend to be malnourished that often leads to fatal cases in early life. However, other than these socio-geographic dynamics, poor women-care also largely contributes to malnutrition.
Most women in remote patriarchal communities, from an early age are deprived of adequate nutrition since birth. Upon which, early marriages and early pregnancies makes the situation worse. While multiple factors pose as concerns contributing to malnourishment in Odisha, poverty, food insecurity and frequent natural disasters seem to be the larger issues.
Natural Disasters, poverty, food insecurity: Odisha's interconnected concern
In 1999, Odisha was hit with one of the most destructive super cyclones killing 10,000 people and affecting many more. The gravity of the situation gave birth to the National Disaster Management Authority.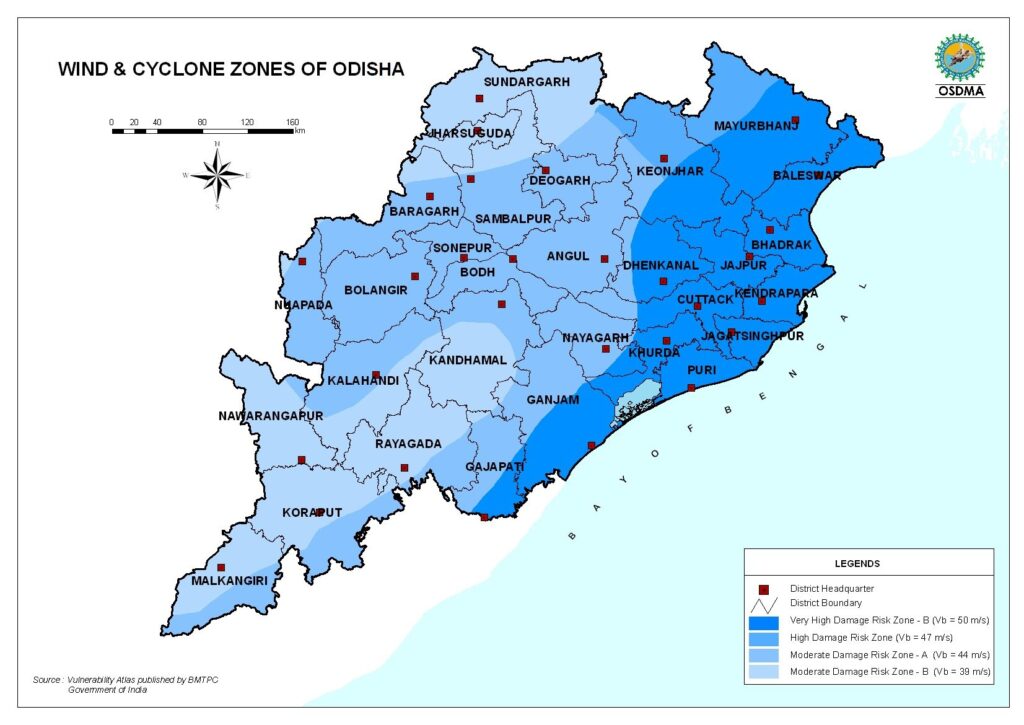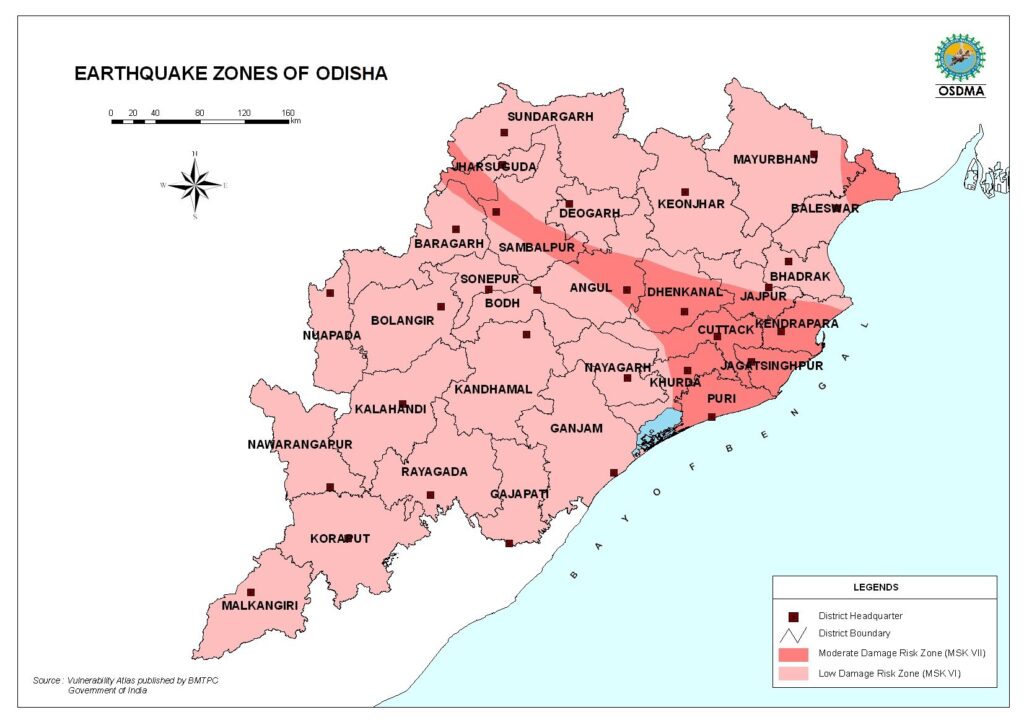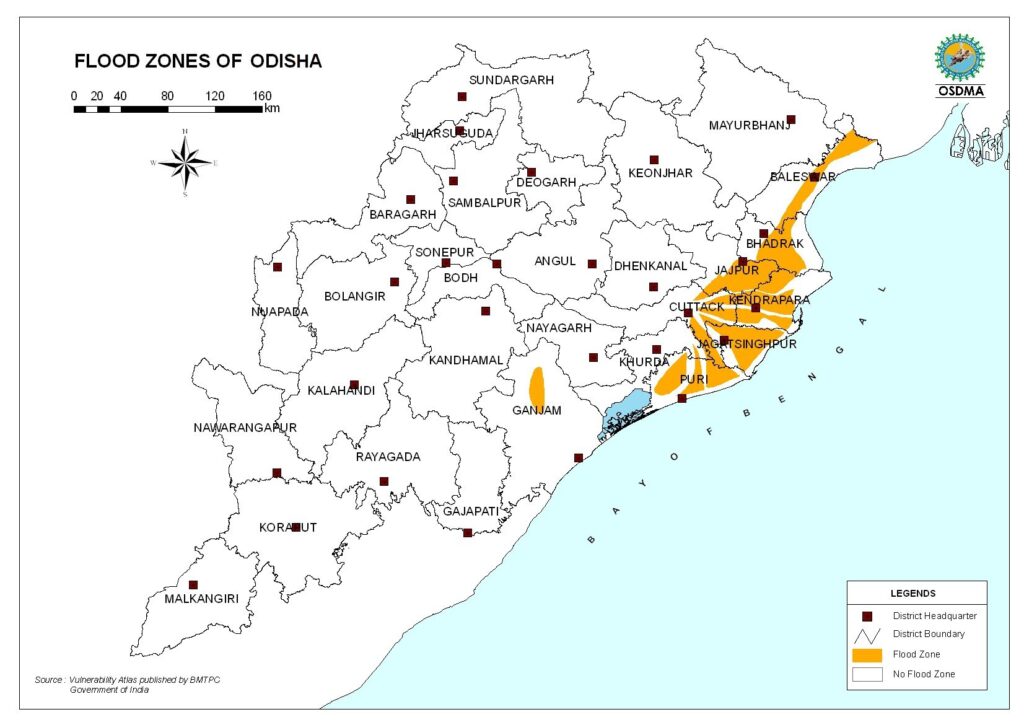 While Odisha has a long history of major natural disasters, In the last 25 years, Odisha has faced 13 years of flood, 8 years of drought, and 6 years of cyclone. DISASTER PREPAREDNESS IN ODISHA, BishnupadaSethi, IAS-2019
The concerning numbers have invited geographical destruction leading to declining farming scopes, irrigation practices and thus, causing less income and food insecurity.
The vicious circle of poverty, food insecurity and natural disasters has progressed to migration. This migration is a distress migration as opposed to an informed one. Odisha sees thousands of people migrating in mass numbers, that again invites basic survival constraints like lack of hygiene, poor nutrition, unchecked health, and poor-quality education.
Central and state government has laid down number of initiatives to tackle the major social concerns in Odisha which includes ICDS, Mamta Diwas-VHND, etc. Odisha has been active with many government initiatives and non-government initiatives to tackle the leading issues of malnutrition, food insecurity, and poverty in a response to peak need and vulnerability of the state. However, the implementation of all these initiatives can become challenging given social, political, geographical, and economical factors of the intended beneficiaries.
We see Government and civil sector organisations working collaboratively to address these issues at multiple fronts. To make interventions possible and bridge the implementational gaps, various non-governmental organisations passionately strive to connect marginalized communities with better accessibility to ensure benefits. Being a vulnerable state to frequent natural disasters, a number of NGOs are working towards controlling the consequential factors. The NGO community comprises of both small and large sized impact making organisations and thus, potentially make variable but notable impact within the grassroot community.
Dhwani Foundation aims to positively impact these passionate grassroot NGOs and maximize their effectiveness through various organisational development initiatives. It is our vision to channelize impact through impact within these non-profit organisations and step towards a more sustainable organisational ecosystem. However, the evolving social sector poses new challenges and every organisation willing to make an intervention always strives to contribute and impact more.
Odisha welcomed Dhwani Foundation with open arms with many stakeholders expressing a need and willing to enhance their organisational capacities. All our interactions showed a larger understanding of how strengthening organisational capabilities will create a positive impact in the grassroot communities across domains of livelihood, health & nutrition, women empowerment, and disability. Dhwani Foundation believes that our grassroot partners from Odisha will become a foundational example that draws the path of sustainability through organisational Development.