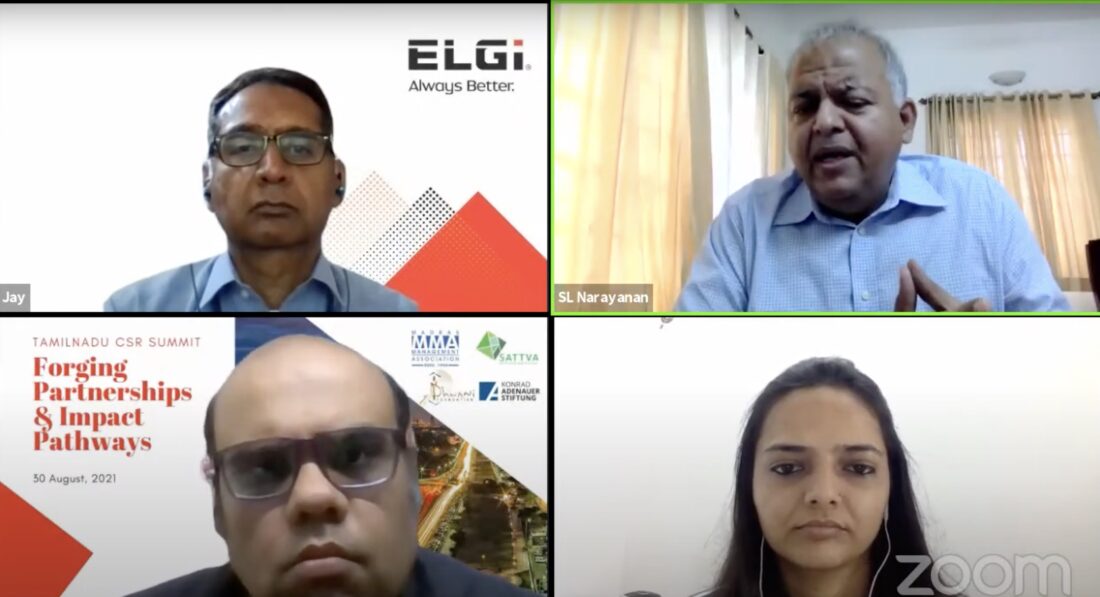 Bringing non-profits and CSR leaders together
Tamil Nadu CSR Summit 2021 was held on 30th August, organised by Sattva, a consulting firm in the social impact sector, in partnership with Madras Management Association and Dhwani Foundation.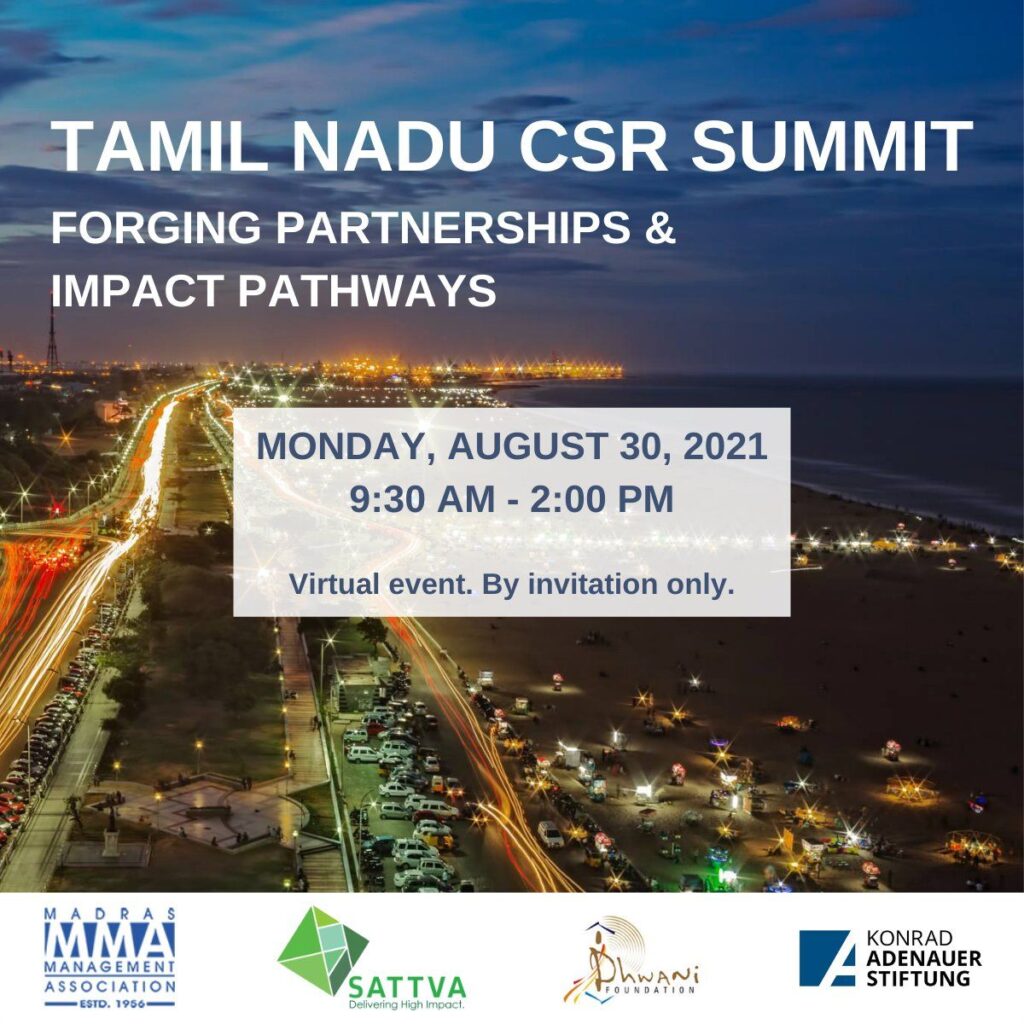 Today, Tamil Nadu is India's second-largest economy despite being only the sixth most populous state. Tamil Nadu is among the top-performing states on the United Nations Sustainable Development Goals (SDGs). It has a composite SDG score – which includes all key development sectors including health, education, employment, sanitation, energy among others – of 74 and ranks second on NITI Aayog's SDG Index 2020-21.
The CSR mandate was made into law in 2014, and since then INR 92,605 crores of funding has been channeled by corporates towards development causes in the country. Tamil Nadu received INR 4094 crore from 2014-2020 and is the fourth highest CSR spender in India.
Dr Palanivel Thiaga Rajan (PTR), Minister for Finance & Human Resources Management, State Govt. of Tamil Nadu released the Tamil Nadu CSR Report which provides detailed information on where the over INR 4000 crores the State received in CSR funding since the inception of the mandate was spent, both at a district level and sector-wise.
Dr PTR observed, "the bulk of CSR are for projects in Chennai and Coimbatore, and little has been spent in Aspirational Districts." He said it should be a wake-up call for big corporates to be more thoughtful, granular and detailed in their approach and activities.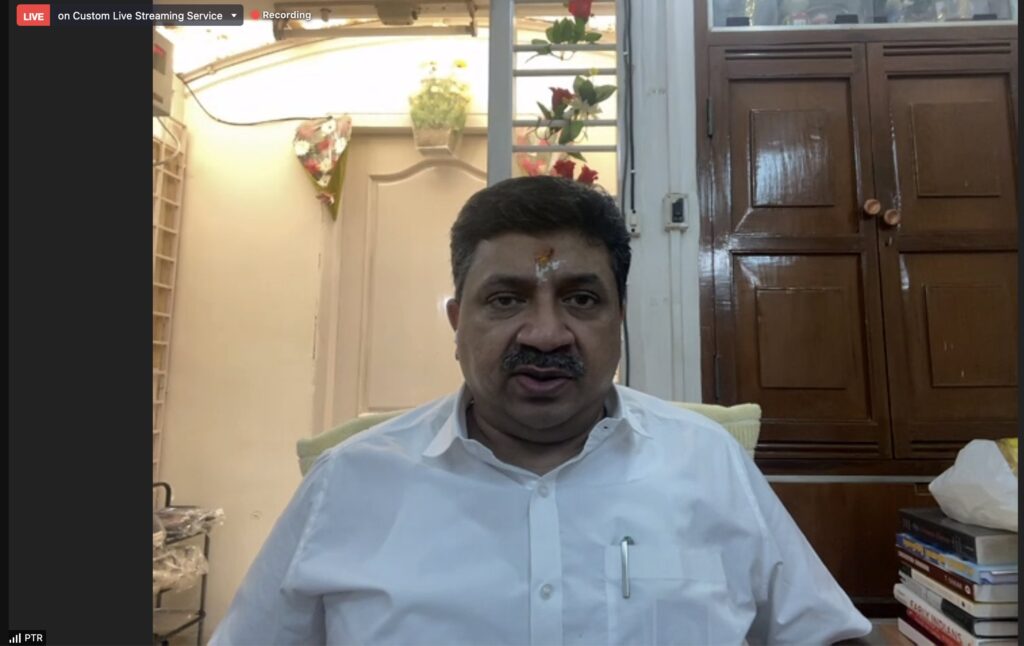 In the last two years of 2018-2019 and 2019-2020, the state received over INR 800 crore each from the different corporates in the country. Companies headquartered in Tamil Nadu played a key role, with 72%of CSR funds received coming from them.
Key insights from the report :
The top three funding industries are BFSI, manufacturing and energy
Chennai received the bulk of CSR outlays at close to 25%, with Vellore and Coimbatore at little over 6% and 5% respectively

NITI Aayog recognised aspirational districts – Ramanathapuram and Virudhanagar – which are yet to meet many of the markers as per the SDGs received less than one percent outlay across the last six years

The three districts of Ariyalur, Tenkasi and Tirupattur received none at all

Following the pan India trend, education was the most preferred segment which the organisations supported, with healthcare and rural development coming in the second and third place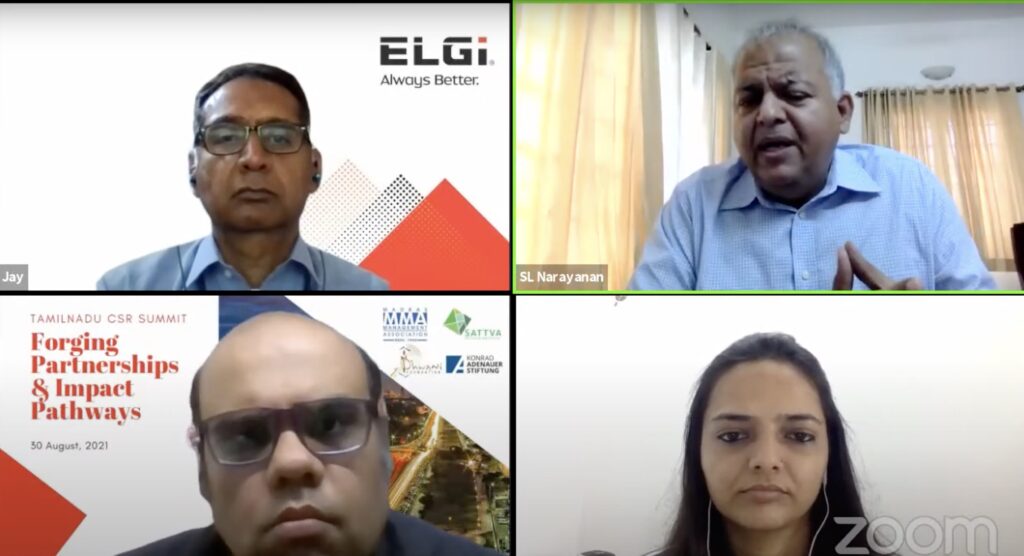 The event saw panel discussions on the Evolution of CSR, Enabling innovations and best practices in Social Impact, and Facilitating effective cross-sectoral and localized partnerships for scaled and sustainable impact. Participants included leading corporate leaders and representatives from NGOs and Foundations – Ashok Leyland, ELGi Equipments, Cognizant Foundation, Grundfos India, IIT Madras, Lend a Hand India, NSE Foundation, Saint Gobain, Samunnati, SUN Group and Thendral Movement.
Dhwani Foundation's Executive Director KN Gopinath shared concluding thoughts, "It is time to deliberate how we can bring data and people together to ensure more impact in TamilNadu, with the government, non-profits and CSR organisations working together."
The full report is available here: CSR in Tamil Nadu